Bernard Declerck
Designer / Bernard Declerck
Photographer / Cafeine
Product / Thalostuc
Location / Ursel
This rustic interior design demonstrates how wooden elements and mineral plaster finishes can complement each other and create a beautiful atmosphere together. The use of wood gives the space a warm, natural feel and creates a cozy atmosphere. The mineral plaster finish of Thalostuc adds an extra dimension and gives the room a unique look.
The use of wooden elements in combination with mineral plaster finishes is not only aesthetically appealing, but also has practical advantages. These finishes are durable and easy to maintain, making them perfect for those who are looking for a combination of aesthetics and practical usability.
In this rustic interior design, the wooden elements have been integrated in a subtle way, which perfectly complements the decorative plaster of Thalostuc. This maintains the rustic atmosphere, and together, the wooden elements and mineral plaster finishes form a harmonious whole.
Whether you are looking for a warm, cozy atmosphere or a unique and modern look for your interior, the use of wooden elements and mineral plaster finishes offers countless possibilities. Discover for yourself how this combination can transform and enhance your interior. Choose durable and easy-to-maintain finishes and enjoy the benefits of a beautifully decorated space.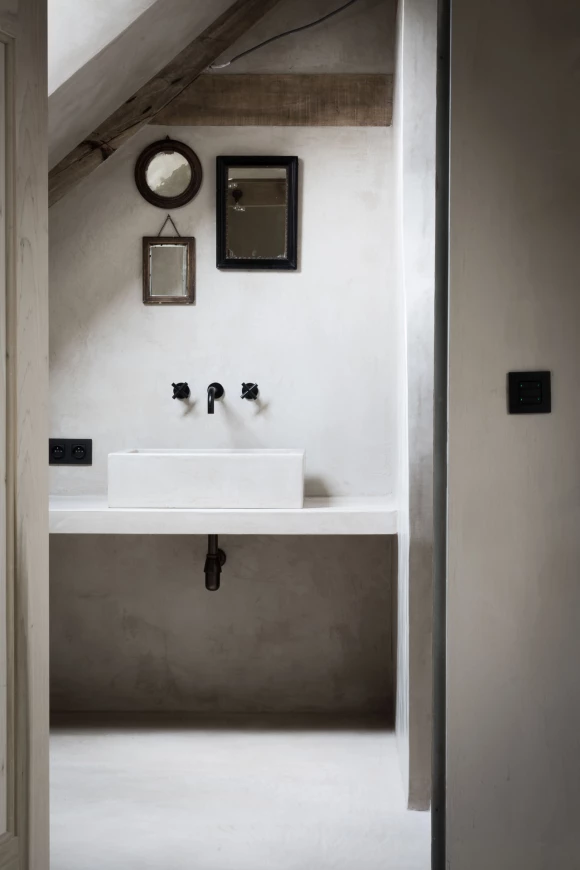 Come by and create with us
We are happy to give you the opportunity to convert your own story into a personal, authentic colour. Visit our studio and get started with our colorist. We provide a hot coffee and are happy to participate in your story. We help you find the right texture and color intensity.
Contact us